Industry Institute Interface activities in TCE includes Academic support from industries, Consultancy.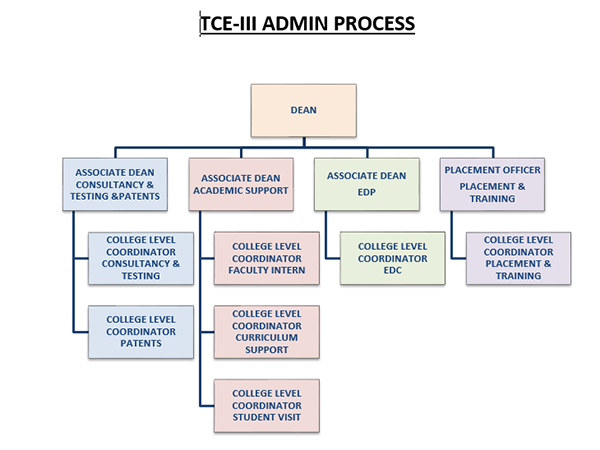 Academic Support
Academic support aims to bridge the gap between the industry and institute in the curriculum by way of providing support courses delivered by industries. The support group arranges one credit/ two credit courses and special lectures offered by industry personal, training for faculty in industry, internship and short visits for faculty and students to industry. The support mechanisms are well defined and organized after doing thorough gap analysis of the existing curriculum with industry requirement.
Consultancy, Testing and Patenting Cell
TCE started its industrial consultancy way back in 1970s through Civil Engineering. All the Engineering and Science departments faculty members are providing efficient and cost effective technology solutions for industries in and around Madurai and elsewhere in Tamilnadu and India. TCE has one of the best hardware and software infrastructure for Testing of soil, concrete, water, road, energy, power, RF and antenna, wireless, etc. and most of the labs are engaged in testing of industrial products. The patent Awareness Cell provides knowledge and facilitates to apply for patents for the  ideas/products/algorithms developed through research and development. TCE has 3 US patents and one India patent that are done in house and many are in the anvil.
Entrepreneurship Development Cell
The entrepreneurship development cell is the gate way that promotes young entrepreneurs and startups to venture. it plays a vital role in connecting the fresh talents to resources by closely working with entrepreneurship development institute, India. The Business incubation centre provides a healthy breeding ground for startups and has widened its scope by providing support to make the ideas to product to enterprise. The European Technology Experience Center provides a larger platform for the ventures to provide cost effective indigenous solutions to the adopted European technologies.
Placement Cell
Placement cell provides opportunities for the graduates passing out of the institute to land in the appropriate industry. It supports the students with necessary training in both soft and technical skills. It anchors very good avenues for the graduates to get an exciting and fulfilling careers in India and abroad. It also helps students in getting internship in industries to harness their interest and professional skills.
CII Awards
The following departments have won AICTE CII Awards for the Best Industry linked Technical Institution.
Department of Civil Engineering
Department of Electrical and Electronics Engineering
Department of Electronics and Communication Engineering
Department of Computer Science and Engineering
Department of Information Technology
Department of Architecture
| Sl.No | Details | Download |
| --- | --- | --- |
| 1 | AICTE CII Data 2017 | |
| 2 | AICTE CII Data 2016 | |
| 3 | AICTE CII Data 2015 | |