TCE is one of the consortium institutions of IUCEE. The Indo Universal Collaboration for Engineering Education(IUCEE), with Headquarters at University of MassachusettsLowell, was conceptualized by over 150 leaders of engineeringeducation and businesses from US and India in 2007. The visionof IUCEE is to improve the quality and global relevance ofengineering education and research in India and related benefitsto US engineering educators, with focus on faculty development,student development, curriculum development, as well asimproved teaching technologies & research.
For more details: http://iucee.org/iucee/
https://www.youtube.com/watch?time_continue=30&v=allQx-f44x8
IUCEE INTERNATIONAL ENGINEERING EDUCATORS CERTIFICATION PROGRAM (IIEECP)
The IIEECP Program is offered in three Phases:
Pre-Certification Workshop IIEECP – Phase I
IUCEE International Engineering Educators Certification Program's (IIEECP) Pre-Certification Workshop was organized at our college during 8-10, August 2016 and Twenty Eight (28) of our college faculty members are participated in this workshop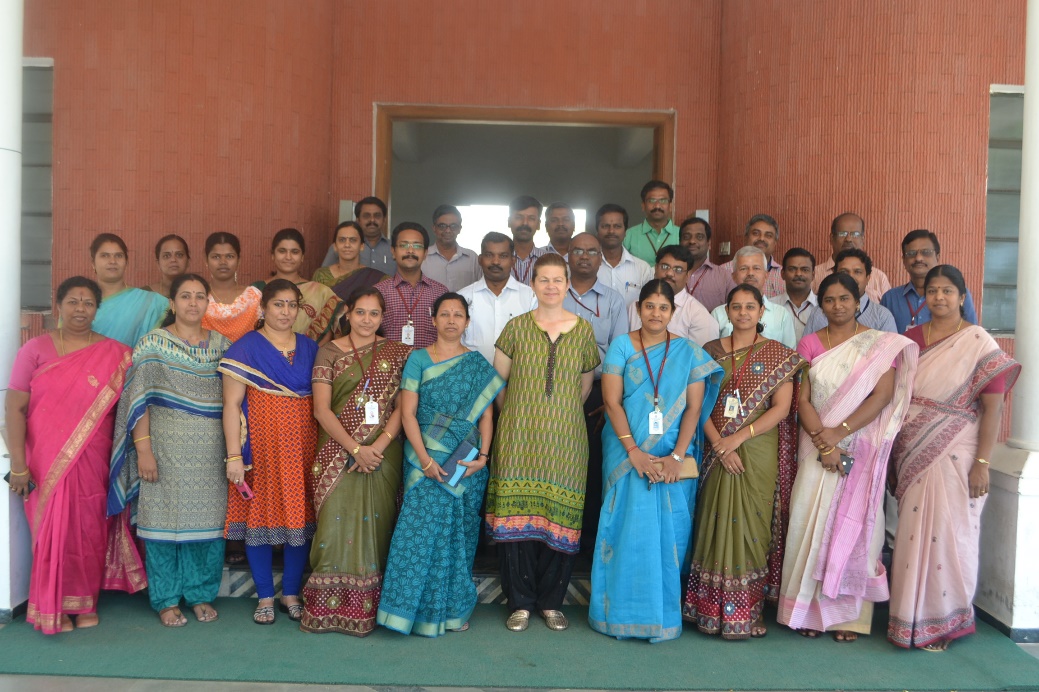 Certified TCE Faculty Members of IIEECP
Dr.SJ.Thiruvengadam, Professor of ECE, TCE – Associate Dean (TLP)    
Prof.C.Sridaran, Asso. Professor of CSE, TCE – Associate Dean (Assessment)    
Dr.K.Chockalingam, Asso. Professor of Mechanical, TCE – Associate Dean (FDP)    
Dr.S.Baskar, Professor of EEE, TCE - HDEEE    
Dr.S.SaravanaPerumaal, Asst. Professor of Mechanical, TCE – CLC (IUCEE)
Dr.R.Rajan Prakash, Asst. Professor of EEE, TCE – CLC (Assessment)    
Dr.D.Anitha, Asst. Professor of CA, TCE – CLC (Learning)    
Ms.C.Jeyamala, Asst. Professor of IT, TCE – CLC (Curriculum)    
Dr.PGS.Velmurugan, Asst. Professor of ECE, TCE    
Ms.D.Srividya, Asst. Professor of Civil, TCE
iGLOBE - MEMBERSHIP IN GURUKUL
In 2016, the iGLOBE (IUCEE Gurukuls for Learning and Outcomes Based Education) program was started with the objective of facilitating institutional transformations at IUCEE Consortium member institutions.
1st IUCEE Gurukul Summit was held at KLE Technological University, Hubballi – 580031, 27-30, July 2016. This summit has been organized to identify Focus and theme areas of IUCEE-Gurukul teams and sharing on priority focus areas for short term, mid-term and long term with goals, milestones and specific action items
TCE Participants in this summit:
Dr. K.Arunachalam, Dean (Academic Process)
Dr.S.J.Thiruvengadam, Associate Dean (Teaching Learning)
Dr.K.Chockalingam, Associate Dean (Faculty Development)
Dr.T.Baskaran, College Level Coordinator (Content Delivery)
Dr.S.SaravanaPerumaal, College Level Coordinator (IUCEE)
INTERNATIONAL CONFERENCE ON TRANSFORMATION IN ENGINEERING EDUCATION 2018 (ICTIEE 2018)
As part of IUCEE partnership, TCE is hosting an International Conference on Transformation in Engineering Education 2018, 8th& 9th of January 2018. The vision of the fifth ICTIEE2018 is to promote globalnetworking among engineering educators, for nurturingexcellence in engineering education. ICTIEE2018 is a forum forsharing of best practices in curriculum design, content deliveryand assessment for effective implementation of Outcome BasedEducation. ICTIEE2018 includes paper presentations,workshops, keynote addresses, plenary talks and paneldiscussions with a focus on research based educationalstrategies for enhancing the quality of technical education.
ENGINEERING PROJECTS IN COMMUNITY SERVICES (EPICS)
TCE is a member in Purdue University's Engineering Projects in Community Services (EPICS) Program. EPICS Program is an engineering-centered, multidisciplinary, community-based approach to design education.  EPICS and IUCEE have developed a strategic partnership to expand opportunities for Indian colleges and universities to adapt the EPICS model into institution's curriculum. This collaboration is intended to increase the capacity to provide necessary resources and support for Indian colleges and universities. The benefits of EPICS partnership are:
Free access to the complete set of EPICS  course materials developed by Purdue University as well as materials modified by other IUCEE-EPICS members
Free access to faculty development webinars and on-line lectures for students and faculty
Recognition of the institution as an IUCEE-EPICS member, including listing on the IUCEE and EPICS University Consortium's websites and a recognition plaque for their first year.
An annual review of projects and programs
Certificates of participation for students who have successfully completed projects.
Student work will be evaluated by an IUCEE, EPICS or corporate partner representative
Access to IUCEE-EPICS faculty workshops
Campus visits by IUCEE-EPICS representatives for consultation with faculty and/or students
For more details: http://iucee.org/iucee/iucee-epics-partnership/
Prof. Bill Oakes of Purdue University, along with the IUCEE team, IS OFFERING a formal course in Design Thinking for faculty from consortium colleges, and mentoring for faculty and students working on EPICS projects. Participating faculty and students receive formal certificates from EPICS program at Purdue University upon satisfactory completion of projects.